---
CRA ONTARIO | October 2018 Newsletter
Together We Can Raise The Standard!
In This Newsletter
Your Voice Matters! Please take a moment to complete our Newsletter Survey! If you missed the popup, please take the survey HERE. Your feedback is important!
October 2018 Member Networking Event – See You in Muskoka!
CRA Ontario is heading to Ottawa for our November 2018 Networking Event!
Why is Equipment Rental Moving to LED? By Lind Equipment
Ri$k Happens! Accidents Avoided – Almost (source: ARA Insurance)
YPN Conference 2018 – East Coast Location Added!
The Secret to Showroom Success!
Protect Your Rental Business Against Difficult Clients
Time To Get Spooky – Halloween Social Media Marketing Tips
November App Of The Month: "Things"
---
Special Message From Your CRA Ontario Secretary, Peter Bonish!
Hello CRA Members, Associates and all potential new members that have found your way to the Ontario chapter's newsletter; Welcome!
Who are we? We are the Ontario Chapter of the Canadian Rental Association. The Canadian Rental Association (CRA) represents Region 10 of the American Rental Association (ARA). As a Canadian member of the ARA, you automatically become a member of the CRA, and then based on the province you operate out of, you become a member of that Province's association; in our case the Ontario chapter.
There are a variety of reasons to join. Ranging from member benefits such as fleet discounts on car purchases (http://crarental.org/page.php?id=13), educational opportunities for staff such as Rental U (http://www.ararental.org/Education/Rental-U/What-is-Rental-U) or the buying opportunities found at the Rental Show (http://arashow.org/). For me one of the greatest advantages of membership is the monthly meetings held by the Ontario chapter.
Once a Month, usually the third Wednesday of the Month, there will be a member event hosted by the chapter at a business that is a member of the association. There will be tours of their facilities, games/activities, and a speaker, plus the opportunity to meet suppliers and people that manage/own/operate rental houses. It is an excellent opportunity to meet people who understand your industry, that are not competing in your area.
These networking opportunities are an amazing resource. At one meeting I asked everyone I met what type of mid range truck do they use for delivery, what were the problems they have with those trucks, and would they recommend that type of truck. Seems simple but the value from people in the industry telling me what truck they are using is far more relevant than a blog or online review. It was a key factor in choosing our current truck.
I know it may be redundant, but the more involved you become with your chapter, the easier it is to find contacts to help grow your business. I would recommend becoming involved whenever you find the chance, it is never too late to get involved. There are openings on the board, on our various event committees and we can always use volunteers at events!
Have a great winter and feel free to find me at the meetings.
Your Ontario chapter secretary,
Peter A. Bonish, CERP
---
FROM THE DESK OF THE ASSOCIATE DIRECTOR
Ask And Ye Shall Receive…
Almost six weeks ago, I sent out an email to all CRA Ontario Associate Members asking for feedback on issues that affect them…suppliers to industry. Within a couple of minutes I received an email from Mark Peart at G.C. Duke, and a phone call from Dave Clark at Brandt Tractor.
Both gentlemen had questions and comments relative to the upcoming CRA (Ontario) Conference 2019 (formerly the Table Top Show…Man, I hate that name!).
After speaking with both of them, the CRA (Ontario) 2019 Conference Committee Working Group was formed and our first meeting date was set. We recently met at a local "establishment" in Mississauga, and with the help of Dean Nasato from Wacker Neuson and Dennis Heathcote from National Event Supply, we laid out the framework of Conference 2019. Since that date, Dean and I met at a Conference facility in the Kitchener Waterloo area to scope out a prospective venue for our Conference.
The Working Group has grown since that first date. The Party/Event Rental membership will be represented on the Group by Dennis, Kim Rixon from Muskoka Party Rentals, and Michelle Nicol from Higgins Event Rentals. The Equipment Rental membership will be represented by Dean, Mark, Dave, Yours Truly, and Colin Wilson from A World of Rentals.
Please watch your email and the CRA (ON) Newsletter for exciting news about Conference 2019!
One more thing…as an Associate Member of this association, you have a voice. Just like Mark and Dave, if you have a question, comment, idea, or concern about anything related to being a supplier to this industry, please reach out to me. I will do whatever I can to address your issue, and will guarantee it won't fall through the cracks!
Submitted by: Gord Ellis, Cavalier Industries Ltd. | CRA (ON) Associate Director
Cell: 289.259.9819 | Email: gord@cavalierind.ca
---
Are you the next CRA Ontario Director-At-Large?
Do you know someone who is?
The CRA Ontario Board is looking for 2 – 4 Directors-At-Large to join our fun group! Are
you looking to get involved and grow in the Canadian rental industry? This is the perfect place to start! We have various rolls available with lots of room for growth and would love to chat with you about these amazing opportunities.
We meet before every member event and always have a blast putting together programming, communications and information for our membership.
Contact any of the board members HERE for more information today!
Follow our *NEW* CRA Ontario Instagram HERE to stay informed in-between Newsletters!


---
OCTOBER NETWORKING EVENT
October 17, 2018
CRA Ontario Member Event
Muskoka Party Rentals, Bracebridge ON
Join your fellow CRA Ontario Members for an evening at Muskoka Party Rentals! Kim Rixon, CRA Ontario President, is sure to put on a magnificent evening full of great food, speaker and exclusive behind the scene tours of her party rental warehouse in Muskoka, Ontario!
Since 2003 Muskoka Party Rentals has been helping to make weddings and social gatherings a success all over cottage country.
Founder, Kim Rixon, uses her experience in customer service and accounting to assist people from around the world plan and carry out functions of all sizes. True to their slogan "From Tents to Teaspoons" nothing is too large or too small for them to handle! They have provided equipment for functions hosting over 450 people all the way down to a cozy dinner for 8 guests.
As their inventory has grown, Muskoka Party Rentals has moved to a larger commercial location. This has given them the space for offices and their warehouse, making it easier for maintenance and equipment shipping.
They have also added a linen facility to their warehouse and now most of their linen is processed at their in house facility.
Muskoka Party Rentals continues to listen to their customers and expand their line up of products to meet their clients needs and inspire fresh ideas!
Tool/Construction Operations – don't miss this glimpse into the party world!
Party Operations – check out what Kim has going in her shop and share ideas to improve your own operations!
Don't forget to book your hotel room for this great event! Rooms are limited, get your reservation in soon to avoid disappointment!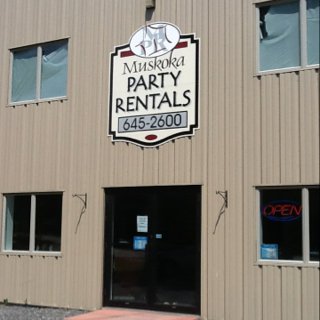 ---
NOVEMBER NETWORKING EVENT
November 8/9, 2018
CRA Ontario Member Event
Ottawa, Ontario
Hop on the bus to Ottawa with your fellow Industry pals for a jam packed 2 days full of networking, rental store tours and an NHL game – SUITE style! Check out below details and keep an eye out for the official registration forms. Register FAST – There are limited spots available and you do NOT WANT TO MISS this one!
Registration Form can be downloaded <<HERE>>
---
---
Trade associations give their members many advantages in a fast-paced, competitive world.
Each month we will be highlighting a new benefit to help you make the most of your Canadian Rental Association Ontario membership!
According to recent research, over 85% of businesses that fail are not members of a trade association, so you're already ahead of the curve!
Network, Network, Network!
Aside from all of the professional benefits that are available through the Canadian Rental Association, it also provides an opportunity for members to build friendships and personal relationships that can last a lifetime. Not only do members have access to information about updates to the industry, they can also play a large role in determining these changes. Trade associations provide a forum for members to share ideas and develop new ways to improve the industry. This allows for more experienced members to help newer ones grow, while offering the opportunity for all members to share innovative ideas that can help the association. Membership with the CRA means immediate access to any news or developments that affect your business and the industry. Outside of the usual communication of members to each other, CRA Ontario produces a member-only newsletter full of industry related articles, trends, upcoming events and informative resources that help its members stay on top of recent developments in the field.
Unlike many industry related events where networking can be a chore, the CRA Ontario is notorious for creating a friendly and inviting atmosphere that makes networking fun again! Our monthly member meetings offer an opportunity to mix and mingle with old friends and new, in a relaxed and social environment. No pressure, just great conversations with like-minded rental professionals with similar goals and interests.
---
---
What's In It For Me?
Why Attending "The Rental Show" is Good For Your Business
By: Michelle Nicol, CERP | CRA ON 2nd Vice President | Higgins Event Rentals
For those who have had the opportunity to attend The Rental Show in years past, you may agree that the following descriptions come to mind when thinking about your experience; Inspiration, Creativity, Motivation, Networking, Opportunities, Professional Growth, Knowledge and Profitability… to name a few.
With registration open for the 2019 Rental Show, rental companies across the globe are deciding if they are attending The Rental Show 2019 in Anaheim. Furthermore, decisions are being made on who they are sending to represent their company, what they are hoping to buy from the tradeshow floor and what they are excited about learning from the many educational seminars.
By attending the rental show along with your team, you are investing in your staff and therefore investing in your company. You value the time, dedication and input these members of your team offer to your company. You see these employees as key stakeholders in your business and want to provide the tools necessary for them to continue to grow professionally and continue to be a strong representation of your company. The many industry professionals they will meet, the tips & tricks they will learn and the new and innovative products they will have the opportunity to see, are crucial in the professional development of your employees and will ensure they feel valued and motivated to assist in the successful growth of your company.
At a recent committee meeting at ARA headquarters in Moline, IL, a fellow committee member (Thanks Billy Haas, Crown Rental Inc, Minneapolis!) threw out the acronym "WIIFM" = What's In It For Me?. Each business owner and employee hold value to the many different components of the rental show; some find value in the tradeshow floor and getting out there to see in person the new items being offered, trying that new pieces of machinery or touching that new fabric of linen. Some feel that the seminars hold the most value where they are able to learn a new marketing strategy, put their financial goals into play or learn all about new trends and how to implement them into their inventory. Some attendees feel that the networking opportunities are the key highlight to their rental show experience; reconnecting with fellow industry professionals you've met at past rental shows, which hopefully have resulted in word of mouth business & referrals. Regardless of your own personal reason to attend The Rental Show – the important part is that you attend and here's a few reasons why you need to be there.
The Rental Show is a closed show which means that only rental industry professional are eligible to register and attend. There are no other trade-shows of it's size, specific to our industry, to attend and network with people just like you and your staff. Across the globe, rental companies share the same issues and are more than happy to share experience, make suggestions and lend a hand to fellow industry professionals. In addition to networking with your peers, the trade-show floor hosts more than 700 exhibitors with over 350 Show-Only Specials.
If you are a Tent & Event company, you have a day all to yourselves full of party specific seminars lead by and attended by like-minded rental operators. If you are a Construction & General Tool company, The Rental Show seminars are open ended and all-encompassing for both party & event and general tool & construction. Seminars being offered cover everything from sales to operations, marketing to installations, trends to problem solving; there is something for everyone regardless of your role in the company, age, experience or interests.
Getting to The Rental Show is a simple few click process using the travel tips and resources available to you via the ARA. Shuttle buses, exclusive post-show cruises, flights, rental cars, accommodations and airline transportation are all available to you via http://arashow.org. Booking your hotel has never been easier with all available options and pricing laid out in one resource via ONPEAK.
Your Regional Reception are a great opportunity to kick back and relax with some of your local industry friends who you may not have seen in the seminars or on the trade-show floor yet – there are after all, nearly 6000 attendees from over 2500 rental companies. Another great evening even is the Young Professionals Network which are always a fun way to unwind and have some fun with your colleagues.
Last but not least… we cannot forget about the world famous rental show bag you get upon registration! Who doesn't love collecting all of the trade-show floor swag including product books, samples, mini skids and scale model size machinery? One might even suggest bringing an additional suitcase strictly for the show swag you will collect and bring back to your colleagues and clients.
Take what you have learned at The Rental Show and share it with your staff. Pass along the motivation and ideas you collected for those who stayed behind to hold down the fort. For more tips and tricks on taking what you learned at the Rental Show and putting it into action – check out our CRA Ontario March 2017 newsletter article "YOU'RE BACK FROM THE RENTAL SHOW… NOW WHAT? Putting What You Learn at the Rental Show Into Action!" http://www.crarental.org/fileuploads/CRS_CRANewsletter_MAR17_JLR-FINAL.pdf
---
Ri$k Happens: Accident avoided — almost
Mary Ann Gormly, CERP – Loss Analyst, ARA Insurance
A driver for a rental store was making a right turn at an intersection. He had the right of way and had looked in each direction to be sure he was in the clear to make the turn. As he began to round the corner, he saw another driver backing up into the street he was turning onto.
The driver stopped his truck and waited for the other car to finish backing up and pull forward. The other driver didn't stop and continued to back up. The rental store's driver honked his horn as he realized the other driver was not going to stop, but the other driver continued backwards.
The rental store driver put his truck into reverse to give the other driver additional space to complete his maneuver. While he was taking steps avoid an accident, he backed into a third vehicle that had pulled up behind him while he was stopped and he was involved in an accident after all.
This item, provided by ARA Insurance, Kansas City, Mo., contains real-life insurance claims involving rental stores and is intended to help readers better understand and manage risk. For more safety and risk management information, customers of ARA Insurance can log on to ReSource. Access is free, so if you haven't signed up yet, contact your agent or call 800-821-6580.
---
Don't Miss Out on Advertising in the Upcoming Newsletter Season!
For the upcoming 2018/2019 season, we are doing things differently and want to offer you an even better value and exposure than in years past!
To Sign-up, please complete the Registration Form and fax or email this letter to:
416-252-0591 (ATTN: Michelle Nicol) Michelle@HigginsEventRentals.com
CRA Newsletter Advertising Sign Up – 2018 + 2019 Season – April 30 2018
---

CRA ON Golf Tournament 2018
120 IS A TERRIBLE NUMBER WHEN GOLFING… BUT NOT AT THE
CRA (ON) TOURNAMENT
Believe it or not, the CRA (Ontario) Golf Committee was shooting for 120…not the score, but the number of golfers at the 2018 Tournament. They almost made it! 105 of the finest Golfers this industry has to offer, descended upon Springfield Golf and Country Club just south of Guelph on September 20th.
They were there to compete in the Putting Contest, battle for Most Honest Foursome, and shoot for the greatest number of Special Holes, from three Hole in Ones to the Longest Drive with a Baseball Bat.
When asked for comment, Golf Committee Chair Gord Ellis (Cavalier Industries Ltd.) said "We almost hit our goal. The absence of a few foursomes of "regulars" due to schedule conflicts, impacted our numbers. With those foursomes, we would have surpassed the 120 for sure".
The Weather Gods treated the Golfers to a virtually rain free day. Hysterical laughter could be heard from each tee box, fairway and green.
Eleven of the holes were either Special Holes or Trophy Holes…a record number for this annual tournament.
The Committee wants to recognize one member in particular for her outstanding efforts in planning this year's tournament. "Diane Gouge (formerly of GAL Power) went way above and beyond this year", explained Committee Vice Chair Colin Wilson (A World of Rentals). "Without Diane's stick-to-itiveness, especially in the last few days building up to the date, there is no way we could have pulled off such an event. From your fellow Committee Members and everyone who participated in the tournament, THANK YOU for everything you did, and for keeping us in line".
With the help of Sunbelt Rentals, and the donation of their Cadillac Golf Cart for the day, the tournament was able to raise $800 which was donated to the Children's Foundation of Guelph and Wellington during the Awards Banquet.
A huge thank you also goes out to the numerous Sponsors, without whom we would not be able to do what we do as a Golf Committee. A list of Tournament Sponsors and Winners will is posted on www.craontario.org.
We saw a record number of new faces, more rental operators than ever and a greater number of Sponsors this year. The 2019 Golf Tournament planning has already started, and promises to be even bigger and better than this year's tournament.
Watch your email for information on next year's tournament…
and DON'T MISS IT!
Thank you to our 2018 Golf Sponsors!
Arrow Material
Bartell Global
Brandt Tractor
Campo Equipment
CanLift
Case Construction
Cavalier
Cooper Equipment
CRA (ON) Chairman
Diamond Products
Duke Distribution
Dymac
Gal Power
Haulotte
Hilti (Canada) Corporation
Husqvarna
JLG
Kubota
Lind Equipment
Makinex
Muskoka Party Rentals
National Event Supply
National Hose
Partsroom
Point of Rental
RDSI
Reachmaster
Rentquip
Sykjack Inc
Toro
Tsurumi
Vermeer Canada
Wacker Neuson
Western Financial
Western Global
---

Protecting Your Rental Business Against Difficult Clients
Managing client relationships is never easy, but in the event rental industry "tough" is an understatement.
When it comes to pricing, discounts, and agreements, clients are not afraid to come after you. So how do you protect yourself from these kinds of clients? How do you ensure you have ample evidence to prove your side of any story and protect yourself legally?
In this guide we'll break down everything you need to do to protect your rental business from these dangerous customers.
Keep All Agreements on Paper
One of the biggest mistakes rental companies make is not documenting verbal agreements and conversations. After a client conversation you may get back to your busy day and forgot about specifics. About a week later your 10% discount is now 20%, according to your client! This is where the importance of documentation comes in. By converting your "handshake agreements" into actual legal contracts, you protect yourself from being taken advantage of, while preventing any unnecessary tension with the client. The event rental industry is heavily based on word-of-mouth so the last thing you want is a client running around claiming you backed out or changed a discount on them.
Have the Client Re-Approve Any Changes
So its one week until a client's event, your contract is signed and completed, and you get a call stating, "We're going to add 5 generators, a skid steer and a forklift." You check your inventory and inform the client you can make the changes. Two days later the client calls and says "..okay we're going to take 3 less generators, and remove one forklift." Finally it's construction day and you show up with what you thought was the right inventory, until you face an angry client who wants to know why they are missing a forklift? You know you were right, but now the client is now requesting a partial refund and you have no way to prove your side of the story. Sound familiar?
This is where the importance of re-approving contract changes comes into play. For every small change, you should always send the client a revised contract. You should not make any fulfillment changes until the client re-approves the contract.
File and Maintain All Related Client Paperwork
This is another tip that is really all about organization. All of your relevant files should be kept in one place with their respective projects. By keeping close track of important files, you protect yourself from any poor encounters with a client. For example, you will always want to keep your customers' tax exempt forms tagged to your client and their projects. This way if a client makes and claims about tax exemption, you have easy access to see if the file is there or not.
Document Your Client's Activity
It is very important to be able to see all of your clients' activity within a project. This could include signing a contract, paying for a project, or saving a credit card on file. Knowing exactly when all of these activities took place add layers of protections for your and your rental company.
Track Every Client Conversation
If you speak with a client about important information over the phone, you should immediately send them a follow up message confirming the topics discussed. You will also want to confirm they read the message so you cannot be accused of misinforming the client. Make sure to keep all emails sent between you and your client within the project. By keeping these emails close to a project, you minimize the risk of missing an important message or misplacing it to another project.
Use Photos As Evidence
Finally, if your team arrives on a job and there are damages to your items, you'll want to properly track them using photos and clear documentation.
While you may have great experiences with perfectly lovely clients most of the time, there are sadly some bad apples out there who can spoil the bunch. By being diligent in tracking all conversations, paperwork, and evidence of your business processes, you're saving yourself from getting in to a "he said" "she said" situation down the road. This is the most professional, stress-free route to conducting business with clients.
Source: Good Shuffle
---

When customers visit a showroom — whether they are shopping for something large like a new car or piece of furniture or something small like window blinds or shoes — one thing is always true.
Shoppers enter a showroom because they want to experience products in person.While online resources provide product details such as colors, sizes, and specifications, the listings can't give shoppers the feeling of experiencing a product in person. For that, they need to visit a showroom.
So if you're selling products in a brick-and-mortar location, you need a showroom that gives customers physical access to your products. You need to shine the best light on your products (sometimes literally). And, you need to create a shopping experience that can turn casual shoppers into paying customers.
Here a few tips for setting up your showroom to impress your customers and keep them coming back for more.
Take Customers Through a Journey
As you design your showroom, think about the customer experience from the moment they arrive. When customers enter the showroom, take them on a journey. Categorize your products into departments, and place sections so that one naturally leads into another. Start your customer's journey with your most popular products, then guide customers through other departments that relate to the items that came before it, and end the journey at the checkout counter placed near the back of the showroom.
Allow Customers to Fully Experience Products
Customers are in your store because they want to experience your products in person. So make sure they can get what they came for. Set out samples that allow visitors to touch and feel products that are typically boxed. Create displays that welcome visitors to interact with products. And, share product demo videos that walk customers through the uses, applications, and benefits of your items.
Make It Easy for Customer to Purchase Products Throughout the Showroom
Even if you put your checkout counter at the back of the showroom, make it easy for customers to decide on purchases throughout the store. That could mean providing paper and pencils so they can write down item numbers. Or it could mean having salespeople nearby who can take tags or products to the register while customers continue to shop. Whatever it is, find a way for your customers to select the items they want to purchase without needing to carry products, remember product info, or go right to the checkout counter.
Cater to Impulse Buys and Upsell Opportunities
Maximize the space around your checkout counter by filling it with impulse purchase items and upsell products. Impulse purchase items include products that the customer didn't come to the store to purchase but may also want and need. Upsell products include packages or upgrades that customers can add to their original purchase. Educate customers on your upsell options using digital information displays and menus that educate them while they wait at checkout.
Create Focal Points
When setting up your showroom, create focal points or eye-catching displays that draw in visitors. If you have a large showroom with multiple departments, consider adding a focal point to each section of your store. If you have a smaller space, consider using one main display for the entire room. Focal points could be composed of product displays or digital screens airing engaging information about your products and brand.
Use Window Displays as a Sneak Peak
As you set up your showroom, think about what customers in your location will see, but also think about what customers outside will see. Focus on the areas about your windows and make sure they look good from both inside and outside views. By setting up beautiful window displays that highlight your best products, you can lure customers into your store by giving them a sneak peek of what they will find inside.
Create a Warm Atmosphere
The primary focus of your showroom may be the products, but you can't forget about the customers that are also in the room. Make sure the showroom is comfortable, welcoming, and inviting to your shoppers. Use a variety of ambient, task, accent, and decorative lighting to give dimension to the space. Add overhead music with the appropriate volume and style. And, consider adding seating areas to provide places for shoppers and their companions to take a rest while they browse.
Empower Your Staff to Help Customers
Make sure your showroom staff is equipped to give your customers the best experience possible. Set up information kiosks so employees can quickly and easily access information customers may need such as product prices, availability, and delivery times. And, train your staff to give your target customer the shopping experience they prefer — whether that is providing a lot of sales advice or standing back and letting the customer shop on their own.
Give Your Customers a Reason to Visit
All of these tips won't do much for your business if you aren't getting customers through the door in the first place. So, give shoppers a reason to visit your location. Hold open houses, sales, and special events. But remember to make it fun, not just about sales. Host free seminars, training, or workshops that provide customers free value and give them a good incentive for stopping by your showroom.
Collect Customer's Contact Information
You can easily notify customers about your events and sales when you have their contact information. So be sure to set up opportunities to collect email addresses from those who visit your store. Invite visitors to provide their information when they check out and set up interactive kiosks that allow them to enter their contact info in exchange for entering a contest or signing up for coupons and discounts.
Your showroom is your opportunity to make a real life connection with your customers and turn interested shoppers in buyers. So make sure you are using these tips for setting up your showroom and creating a space that gives customers the ability to make educated, in-person purchasing decisions.
Source: www.spectrio.com
East Coast Young Professionals Conference added for 2018!
Two Young Professionals Conferences will be held this year as membership growth and interest in YPN events continue to increase.
The conferences will be held in East and West Coast locations:
Nov. 14-16 in Santa Fe, N.M., at La Posada de Santa Fe Resort & Spa
Dec. 5-7 in Clearwater, Fla., at Clearwater Beach Marriott Suites on Sand Key
The two locations can cut down on the time spent away from the business and reduce travel costs. It also gives you another option for the best time to be away.
Both conferences will feature the same educational workshop called "Introduction to Lean" with Jim Hudson. This will cover lean management principles and best practices.
Registration for both conferences will open soon. Watch for the registration link in this Sunday's Rental Pulse and in emails next week. Space is limited to 50 attendees per conference and two attendees per company, so register quickly to lock in your spot
Click HERE to join YPN today!
source: American Rental Association, YPN
---
Why is equipment rental moving to LED?
By Brian Astl, President of Lind Equipment
While the LED light has been around for a long time, LED technology is just now starting to be able to replace large area lights in a cost effective way, which is big news for equipment rental. While it has been easy to replace household bulbs or flashlights with
LED, the large area lights (think tower lights) have been harder as they require really strong brightness to light up the areas required. The current generation of LED large area lights on the market can now match the output of a 1,000W metal halide light with a fraction of the energy usage.
And it's about time that LEDs lived up to the hype. Older generation LED lights were released by some manufacturers prior to reaching the appropriate brightness to match existing bulb based lights, which soured some customers and caused them to believe it was a fundamental LED issue. That is, they believe that LEDs are an inferior light source and won't be able to match up to the large area metal halide bulbs. However, just like the engine in your car, there are a lot of components that go into making an LED light, including making it powerful enough to match or beat metal halide bulbs.
The best LED lighting manufacturers are the ones that build LEDs to last, with quality components, bright white light color, and durable housings.
The value of LED lighting for your customers
There is much more value for both customers and equipment rental companies to renting LED lighting than just simply matching or beating the brightness of bulb-based lights. LED tower lights, floodlights, and cart lights provide your customers with features that they will appreciate.
The LED technology itself (regardless of manufacturer) will make bulb-changing a thing of the past, which means your customer is always receiving the light they need. LEDs are also significantly more energy efficient than bulb-based lighting, which means the operating costs for your customers are significantly reduced. LEDs also give off very little heat and start-up instantly, creating a safer work environment for your customers.
In addition, if built right, LEDs can also create a more flexible work environment. Well-built LED lights also consider how the customer uses them, providing for ease of use and easy movement around the job site. Taking advantage of LED technology is simply not enough, there must be innovation in how the LED lighting is deployed to give real value to the end customer.
The value of LED lighting for equipment rental
The value to equipment rental locations is also quite high. If you currently have bulb-based lighting to rent, whether it be floodlights or tower lights, you know how much time is spent internally on changing bulbs and ballasts, dealing with downtime of the generator engine, etc.
With well-built LED lights, all of that maintenance disappears. A well-built LED light can
come off of rent, be given a hose-down if it's dirty, and then put right back into service. You are dramatically reducing your own internal maintenance while offering your customers something better than what they are used to.
Lastly, LED lights can actually be more cost effective than bulb-based lights. Take the traditional 4 x 1,000W metal halide generator light tower for example. Since the lighting technology is so inefficient, the tower needs to have a large generator permanently attached to it. This generator is so significant that most of the cost and weight in the light tower can be directly attributed to it, let alone starting to calculate the amount of maintenance work put into keeping the large generator running.
Range of options on the market
There are many different ways to deploy LED lighting that can replace everything in your rental fleet right now but also give your customers new options to consider. There are LED flood lights that will replace the traditional 500W quartz halogen lights. There are new 360° LED lights that can replace wobble-type lights. And as we have already mentioned, there are LED light towers that now have the same light output as traditional metal halide light towers.
The newest innovations on the market go further into the large area metal halide lights, replacing metal halide cart lights and offering LED retrofit kits for bulb-based light towers.
To truly get ROI from your rental equipment, you need to ensure that they can be used again and again without needing maintenance or repair. Again, you will not be surprised to learn that there are varying degrees of durability associated with LED lighting.
LED retrofit bulbs, i.e. those that can twist into existing bulb-based sockets, are the least durable and are typically made only for indoor use where they will not be subject to physical shocks. While these are cheap to make, customers often find themselves replacing these LED bulbs, which is counter to the value that LED was supposed to add in the first place.
Selecting a purpose-built LED light, with strong outer housing and a truly weatherproof construction, is the optimal solution for equipment rental. Look for ability to be used in 'wet areas,' not 'damp areas,' as you never know where your equipment will be placed on a job site.
In summary, there are plenty of reasons to move to LED rental lighting for your business, from lower maintenance to a better customer experience. However, be sure to do your homework when buying. We've spoken to many equipment rental companies who were soured on LED technology because they bought a light that wasn't bright enough, or didn't last very long in the field. Get references, carefully read the specs, and ask questions, just like you would when buying any other rental asset.
Brian Astl holds an MBA from Harvard (with distinction) and is a recipient of the Clean50 award, which offers recognition to Canada's leaders in sustainability. Lind Equipment, home of The LED Jobsite, is headquartered in Markham, Ontario. Lind is a leading manufacturer and supplier of portable electrical products for commercial, industrial and hazardous work environments.
---
Higgins is Having a Mid-Season SALE!
Looking to add a collection of glassware to your rental inventory? bulk up on the basics? Take a peak at what they have for sale below and
get in contact with their office
to pick up these deals before they're gone!
---
We want to CELEBRATE with YOU!
Do you have an upcoming Anniversary? Grand Opening? Demo Day? Warehouse Sale? Industry Event? New Hires or Milestones? Do you just have something you want to share with us and your fellow membership?
The CRA Ontario wants to support you and your business and help you grow!
Let us share your successes with fellow industry professionals. In addition to recognition in our newsletters, We would love to represent the CRA Ontario at your special event and congratulate you in person on behalf of your association.
Please email Michelle Nicol, CERP (Incoming CRA Ontario 2nd Vice President) at michelle@Higginseventrentals.com with the details.
1. Decorate your store and social media profiles
We all remember the thrill of seeing storefronts all decked out for Halloween (just like Christmas and other holidays). It's a spooky and fun atmosphere to experience, no matter what product you are buying. People love it and a well-decorated store can be just enough a nudge to keep customers in your store for longer to make a sale.
You can spruce up your social media profiles in a similar way. Add a splash of Halloween by changing the color scheme of your cover photos or adding some spider webs and pumpkins. If you have a developer at hand, add the same graphics to your website or app for extra impact (just remember to take them off when the season ends). Google's doodles are a great example of how to celebrate Halloween and other special occasions, they even added a game last year.

2. Get creative with "spooktastic" images
Visual content like images, GIFs and videos grab the attention of social media audiences much better than plain text and link previews. Special occasions like Halloween allow businesses of all sectors and sizes to loosen up a little bit and have some fun. So it's obvious we should take advantage of this opportunity, right? Creating visual content isn't too difficult when you have the right tools and some time to spend. Get inspired and get right down to it!
There are several ways to approaching this on social media, here are some fun and easy ideas for your Halloween-themed content:
Go wild with Halloween puns on Twitter
Pick a color or theme (monsters, carnival, kid-friendly) and run with it
Create spooky images and post one every day
Add fun illustrations to existing shots of your products
Take pictures of your team in their costumes
Email campaigns can help you boost the reach of your social messages by miles! The approach is similar to social, but the format, of course, will be different. Get inspired by a great, but simple Halloween email tips on Digital Doughnut.
3. Offer a great seasonal discount
It's Halloween and your customers (existing and potential) may expect special offers. These can be an all-out sale, a small discount on the next order or a holiday-themed freebie with every purchase over a certain amount.
As with any holiday campaign, you can attract more engagement for your offers by using social media. Try doing a Halloween-themed giveaway on Facebook or polls on Twitter. Ask questions about autumn or the holiday and reward all participants with content along the way. Once you establish the winners, make sure that you send them their unique promotional codes and gifts.
4. Add the spook factor to your customer's experience
Want to take it one step further than decorating your social media profiles and offering a discount? How about making your product or service spooky? This technique can work for virtually any B2C business but is best suited to those that provide services and experiences.
For example, if you host outdoor activities, you can turn the night of Halloween (or the weekend closest to it) into a special event. Depending on the theme you choose, you can invite people to dress up and then share it all on social media. If your target audience isn't Halloween friendly, you could still host an event with an autumnal twist like seasonal treats and drinks instead.
Named as one of the "World's Most-Shared Halloween Ads", the "Spooky Car Wash Prank" by Ford was released on YouTube in 2014 and has been viewed more than 1.8 million times. Tesco's "Halloween: Introducing Spookermarket" also saw great success and has over 2.4 million views on Youtube. Both of these ads show a great level of creativity and lead by example of how businesses can add a touch of Halloween to the customer experience.
5. Host a photo contest
It might be cliché, but it never gets tiresome. Halloween gives everyone the chance to wear silly costumes. Embrace it and host a photo contest on social media – it's a fun way to engage with your followers.
In addition to costumes, you can also opt for food creations, decorated rooms or spookiest things and places. Remember, every social media campaign must link back to your brand, mission or product – so the type of the contest must be relevant. Set a campaign specific hashtag and offer fun rewards throughout the competition with the main prize announced on the morning after Halloween.
You can also host the contest on a smaller scale in your own office. Ask the team to dress up, then create a poll on Twitter to find out which costume your followers like the most. Similarly, you can hold a bake-off, play fun games and document it on your Instagram – all in the great effort to humanize your brand in a fun way.
6. Be helpful and give advice
Now, if you are not big on discounts, dressing up (or down) and you are not planning on scaring your clients, well, you just might go with the safe choice of some other treats, like providing some relevant advice.
For example, you can give actionable tips or talk about safety and health in relation to Halloween and/or autumn. If you are a digital agency, you can give tips on the area of your expertise in relation to the holiday. If you sell security systems, talk about the dark autumn evenings and the need to take good care of your home and possessions.
If you are in the food industry, you can create recipes and share them on social media to take advantage of the extra traffic, like Delish that created a series of easily digestible videos on YouTube accompanied by fully detailed recipes. The list really does go on and on!
Main takeaways
Decorate your store and social media profiles
Get creative with "spooktastic" images
Offer a great seasonal discount
Add the spook factor to your customer's experience
Host a photo contest
Be helpful and give advice
So there you have it – six spookily effective and simple campaign ideas for your social media on Halloween. Hope you get to employ at least one this year and get that extra boost in engagement and sales that you are looking for. Keep content repurposing in mind when creating new content – there may be a way you can add a twist to an already existing piece instead of creating everything from scratch.
Source: www.Sendible.com

"THINGS"
Today and This Evening
Once you've made your plan in the morning, the Today list is your go-to place for all daily activities. Calendar events now display together with your to-dos, giving an outline of your schedule.
Calendar Events
Decide which calendars you want to see in Things: Personal, Family, Work, and more. The events are neatly grouped at the top of your Today list. With your to-dos below, your whole day is laid out before you.
This Evening
There are often to-dos you won't get to until later in the day – such as things you can only do when you get home. So we added This Evening, which allows you to keep these to-dos separate from the rest, in their own discrete list.
Upcoming
Plan your week ahead with the new Upcoming list. It shows everything on your agenda for the coming days: scheduled to-dos, repeating to-dos, deadlines, and calendar events.
A quick peek at this list is all it takes to stay on top of your schedule – and if your plans change, re-scheduling your to-dos is as easy as drag and drop.
Headings
Large projects are easier to complete when you can break them up into smaller parts – just add a few Headings!
Divide and Conquer
Use headings to create categories, milestones, or whatever you need – just give each one a name and drag your to-dos underneath. Instantly you've got a nice, clean structure for your list, and the plan becomes perfectly clear.
Keep It Together
Headings are a true productivity booster. Not only do they give you a nice visual structure, but you can now easily rearrange whole groups of to-dos simply by dragging and dropping their heading. And when you're done, archive your heading and all of its to-dos for future reference.
Checklists
Some things take several steps to complete but don't require a full-blown project. For those cases we now have checklists, which help you break down the finer details of a to-do and outline precisely what's required to get it done.
Use a checklist when shopping for a list of ingredients, or when packing your bag for a trip. Or use it at work to detail a process so you won't miss a critical step. You can even paste in a bulleted list from another app and Things will convert it to a checklist for you.
Magic Plus
The new plus button adds some magic to every interaction. As you'd expect, tapping it creates a new to-do. But now comes the magic: if you want to insert your to-do somewhere else, simply command the button where it should go! Lift it up with your finger, drag it into place, and let go.
Create To-Dos
Insert a new item right where you want it: drag the button to insert a to-do at the right place in your Today list, or under the right heading in a project, or add a new to-do to the right day in Upcoming. Everything becomes so seamless – it's magical.
Create Headings
When you're inside a project, the Magic Plus has another skill: creating headings! Just drag it to the left margin and let go.
Drop to Inbox
No matter what list you're in, you can send a new to-do straight to your Inbox – with a single, consistent gesture and without ever leaving the list. Simply grab the Magic Plus and drop it on the Inbox target that appears to the left.
Quick Find
Search and navigation in Things is now extremely fast, with Quick Find. All you need to do is swipe down in any list and start typing – the name of a project, to-do, or tag – and instantly you're taken there.
Quick Indeed
To hold its promise, Quick Find needs to be – quick. We've built it so that the moment you hit a key, the results show up instantly. And as you keep typing, the search results update blazingly fast, narrowing your search on the fly.
App-Wide Tag Search
Need to find all your "Errand"s, or everything you need to discuss with "Kate"? Quick Find's got you covered – it automatically detects when you're typing a tag and lets you pull up an app-wide filter in milliseconds.
Timely Reminders
One of Things' most-requested features is here: time-based reminders! For those to-dos you absolutely cannot miss, adding a reminder will give you peace of mind. There are three ways to set the time.
Click
While scheduling a to-do in Jump Start, click "Add Reminder" and set the time.
Type
Our new natural language date parser understands time as well. Type "Wed 8pm", and you're all set.
Thank you to our 2018/2019 Newsletter Sponsors!