– SPECIAL EDITION –
Bonus Newsletter!
Thank you to our Members, Suppliers and Advertisers for the continued support of your CRA Ontario Association! There are going to be many changes coming your way for the 2018/2019 association season and we cannot wait to share these with you!
In the meantime, make sure you sign up to receive notifications and the newsletter to stay informed and involved!
We have a lot of new and innovative opportunities for our Advertisers that are not to be missed! If you are interested in advertising with us for the first time, please contact us today and let's chat! See below Newsletter Advertising Information for the registration form.
Together We Can Raise The Standard!
In This Newsletter:
NEW & IMPROVED Newsletter: Promotions, Opportunities… Making the Newsletter Work For YOU!
Upcoming Events – Mark Your Calendars!
May 16, 2018 Member Meeting – Lind Equipment Canada
Crown Verity April Member Meeting- If you missed the fun, check it out!
September 2018 Golf Tournament – Mark Your Calendar!
Members Corner – See what your fellow industry colleagues have been up to at their shops!
Special Message From Your Incoming CRA Ontario President, Kim Rixon!
Most of our members who attend member meetings already know me as I've been a part of the Board of Directors since 2013. I wanted to give everyone an opportunity to get to know me a little better and to understand why I have chosen to pursue the path of becoming your CRA Ontario President starting in August.
When I started Muskoka Party Rentals in 2003, I had no experience at all with the rental industry
other than occasionally renting equipment from the local tool rental place in Bracebridge.  The opportunity to purchase the assets of a party store, which had recently closed its doors, came to my attention. I thought to myself, "what a fun business, I think I'd like to do that."  I'm not sure fun would still be the word I would use to describe the business, but it is rewarding, and I have met some amazing people along the way. 
Not knowing anything about the rental industry was very daunting. I didn't know which products to stock, how to set up a warehouse or even how to ensure I was getting all my equipment back when it was returned.  One of the first things I did was become a member of the Rental Association of Canada, as it was called then, on the advice of the person I bought the assets of the company from.  This opened a whole new world with endless possibilities and I took advantage of them.  I ordered training manuals, business management tools, financial training tools and the most important thing I did was to contact other members in the Party Rental industry to ask if I could come see their facilities.
One person always stands out in my mind, Jack Webster, who opened his warehouse to me and took me on a tour of McLean Sherwood. When he had to pop into a meeting, he left me to

wander around and ask his staff questions; What an eye opener.  I was opening a small company in Muskoka and he had a massive warehouse with office space that was as big as my entire warehouse.  I left that day with my head reeling with ideas and numbers.  I remember coming home and plotting how I was going to grow from the small business I had to one that could service all of Muskoka. 
It has taken 15 years of blood, sweat and tears, but I now have a company I am proud of! I haven't done it alone; my staff over the years have put their hearts, their backs and their own blood and sweat into the business. I am humbled that they had enough faith in me to bring the company along to where it is today.
I hope you will all take advantage of the tools available on the ARA website www.ararental.org as well as the CRA website www.crarental.org.  There are many programs to benefit you as owners and managers as well as your staff.  Share the knowledge with your staff, that's why you pay your membership dues.  On the ARA website there is a member's forum for you to ask questions of your peers and have them answered by people all over North America.  Trust me, you are not the only one with that particular problem or question.
I look forward to all of you out at our member meetings and outings this year.  Mark your calendar for our next member meeting at Lind Equipment in Markham ON May 16, 2018. Don't forget about our Annual Golf Tournament at Springfield Golf & Country Club in Guelph on September 20, 2018!
Remember to subscribe other people in your company for the Newsletter so they can be informed as well.
— Kim Rixon, CERP – Muskoka Party Rentals
---
---
---
May 2018 Member Meeting – Last Meeting Of The Season!
Join your fellow CRA Ontario suppliers and members on Wednesday May 16, 2018 at Lind Canada Equipment for one last hurrah before the summer!
A little bit about Melissa Quinn, Guest Speaker
Melissa Quinn has spent 20 years in a variety of roles including leadership coach,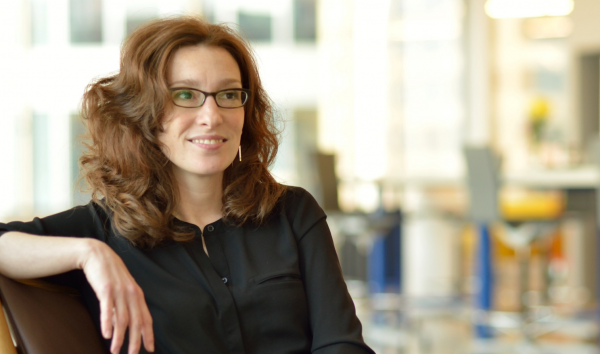 strategy and innovation advisor, head of training and development for a global company, and COO of Doblin – Deloitte Consulting's design and innovation practice. Through these roles, she has both observed and directly experienced the challenges of innovation leadership. Today, she combines this experience with interactive workshops, training and coaching to offer inspiring and practical leadership experiences.
Melissa works with leaders through coaching, training and experiential workshops to help them transform themselves and their organizations in contexts of disruption, innovation and change. She draws not only from her experience as a consultant, but also from her own experience leading change and innovation. Melissa spent 8 years serving as the COO of Doblin, the innovation practice of Deloitte Consulting. She led the firm through two acquisitions, and built a design-led innovation culture and capabilities inside larger corporate parents. 
______________________________________________________________

Downloadable Golf Tournament Registration From HERE
Some great memories from the 2017 CRA Ontario Golf Tournament:
_____________________________________________________________
Don't Miss Out on Advertising in the Upcoming Newsletter Season! 
For the upcoming 2018/2019 season, we are doing things differently and want to offer you an even better value and exposure than in years past!
When you purchase either an Advertorial or Business Card Spot, you Advertisement will also be placed on the CRA Ontario website at no additional charge! In addition, take advantage of BOGO – new this year! Buy ONE Advertorial and receive a SECOND at half price! Along with your advertorial, we are opening up the Newsletter to YOU and invite you to submit an article on an industry related subject of your choosing. This is an amazing and first time offer to share your knowledge with your fellow rental colleagues! See "Not All Chiavari Chairs are Alike" submitted below as part of the Advertorial Advertising by National Event Supply!
For the upcoming 2018/2019 season, the Canadian Rental Association (CRA) Ontario has opened 30 business card advertising insertions to CRA Associate Members/Suppliers.  These placements will be a business card advertisement in all copies of the 7-issue run.  This is an excellent opportunity to get your brand in front of more than 500 CRA Ontario Rental Stores and is an excellent value at $195.00 (+HST) for all 7-issues, or just over $27.00 per issue!
In addition, we will also be highlighting up to 14 additional advertisers on two advertorial feature pages per issue providing an even greater opportunity to engage and increase your visibility with the CRA Ontario membership. Each of these premium advertising placements will be featured for one insertion during our 7-issue run with a message of your choosing.  For the issues that your company's advertorial is not running, we will include a business card advertisement.
To Sign-up, please complete the Registration Form and fax or email this letter to:
416-252-0591 (ATTN: Michelle Nicol) Michelle@HigginsEventRentals.com
 Downloadable PDF Form: 
CRA Newsletter Advertising Sign Up – 2018 + 2019 Season – April 30 2018
______________________________________________________________
ARA Forecasts Equipment Rental Industry to Grow to Nearly $60 Billion by 2021
MOLINE, Ill.--(

BUSINESS WIRE

)--In its latest five-year forecast, the American Rental Association (ARA) expects equipment rental industry revenue to continue to grow consistently in the United States over the next five years, resulting in total revenue of $59.6 billion in 2021. 





According to the 

ARA Rental Market Monitor

™ five-year forecast updated in February, total rental revenue in the U.S. is expected to grow by 4.5 percent in 2018 to reach $51.5 billion, 5.6 percent in 2019, 5 percent in 2020 and 4.4 percent in 2021. The February forecast is identical to the previous forecast released in November 2017 for 2018, with slight upticks in the expected revenue growth rates for 2019 through 2021. 





In Canada, equipment rental revenue also is expected to show consistent growth, reaching $5.35 billion in 2018 with growth rates of 4.1 percent in 2019, 5 percent in 2020 and 4.7 percent in 2021 to total $6.125 billion, which is nearly identical to the November 2017 forecast. 



According to the ARA Rental Market Monitor, which features data and analysis from IHS Markit, a leading business information provider, construction/industrial equipment rental revenue in the U.S. is expected to show a 4.3 percent increase in 2018, 4.5 percent in 2019, 4 percent in 2020 and 3.4 percent in 2021 to reach $40.5 billion.

General tool is expected to post increases of 4.7 percent in 2018, 5.9 percent in 2019, 7.8 percent in 2020 and 6.7 percent in 2021 to total $15.1 billion, while party and event is forecasted to show a 6.5 percent increase in 2018, 6.1 percent in 2019, 6 percent in 2020 and 5.6 percent in 2021 to reach $4 billion.
---
Crown Verity knows how to host a party!
CRA Ontario Member were welcomed to the Crown Verity HQ in Brantford for a night of fun, networking and something that has never been done before at a CRA event – Casino games! Upon arrival, guests were handed a casino voucher valued at $100 (casino money) to try their luck at the Crown Verity Casino! Guests played Blackjack, Roulette and WAR while enjoying a magnificent spread of BBQ treats, salads and snacks by Private Chef, Andrew Lecky.
Guests were treated to a tour of their impressive Warehouse for a behind the scenes look at the assembly, manufacture, repair and shipping of the wide range of Crown Verity products.
In true CRA Ontario fashion, guests took advantage of the fun evening planned and all had a blast!
At the end of the evening, members traded in their casino chips for raffle tickets in hopes of taking home one of the great Crown Verity prizes up for grabs!   You can see who had the most luck of the evening!
____________________________________________
---
Hear about ARA's 2018 Construction/General Tool Shared Interest Group from Steve Mau, Construction/Industrial SIG chair:
____________________________________________

-Sponsored Content – Advertorial Submission Bonus Article-
Not All Chiavari Chairs are Alike
Article Submitted by: National Event Supply
You may or may not be aware that the term Resin Chiavari Chair does not always necessarily mean the same product from one supplier to another. When looking at resin chiavari chairs for sale, there are 4 separate kinds of chiavari chairs that fall under the product name Resin Chiavari Chair (at least that we are currently aware of).
Knocked Down Resin Chiavari Chair:
The first type of resin chiavari chair is a knocked down resin chiavari chair. This type of resin chiavari chair is shipped unassembled, in a flat format – requiring assembly once delivered. Pros of this type of chair typically includes a lower shipping cost associated with the product due to it being knocked down. Cons of this product include a lot of manual labour required to put all those chairs together, especially if your organization requires a large number for an event. Also, you will never get the screws as tight as a factory assembled resin chiavari chair and will need to continually check how loose or tight the screws are after they are used for each event/function.
Resin Chiavari Chair Without Steel Support Frame:
The second type of resin chiavari chair is a resin chiavari chair without steel support frame inside the chair. Pros of this chair include its lower cost than resin chiavari's with steel frames, a lighter chair due to the lack of steel structure and a tighter screw due to the factory assembly process. Cons of this product includes lack of durability especially surrounding the chair back or legs. It isn't uncommon for guests to tip chairs back when listening to speeches and a lack of a steel frame makes the chair much more susceptible to breakage.
 Resin Chiavari Chair With Steel Support Frame:
 The third type of resin chiavari chair is a resin chiavari chair with steel support frame. These chairs have a welded steel frame at their core and the resin molded around the frame.
Pros include a sturdy, more durable chair often capable of holding over 1000lbs while looking identical to the popular wood chiavari chair. Cons include a more expensive chair due to the steel core addition and a slightly heavier chair. It is nearly impossible to determine a resin chiavari chair with vs. without a steel support frame so a supplier should be able to prove this to you by showing you a cross section of their resin chiavari chair or shipping you a sample for inspection (for a small cost of course).
Single Mold Resin Chiavari Chair:
The fourth type of resin chiavari chair is a single mold resin chiavari chair. This chair has no joints to it as it is manufactured as a single piece. Pros of the single mold resin Chiavari chair include its cost (it is the cheapest of the four types of resin chiavari chairs) and it's lightweight. Cons of the chair include the fact the single mold doesn't allow for a fully circular leg and horizontal rails which discerning brides won't like as much as it doesn't look like a "true" chiavari chair. It also will be more susceptible to breaking because of the lack of structural support.
Also, depending on the manufacturer/supplier you will need to be careful on the type of chair seat as they could come with a flat seat which has a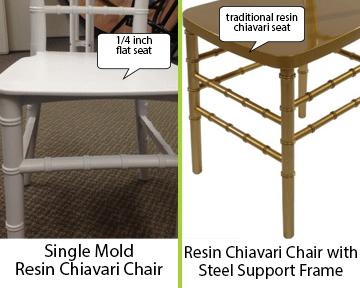 dramatically different look than the traditional chiavari chair seat.
On top of all the different kinds of resin chiavari chairs – there is now another variable that needs to be asked. Is the resin underneath the top coat a colour similar to the colour of the top coat – or white? Resin chiavari chairs with white cores (whether they also have steel support frames or not) can lower the cost of the chair because white resin is the cheapest resin to produce. In addition, to help get the cost down the white resin core can then contain recycled resin which dramatically reduces the durability of the chair making it more brittle.  Also, white resin cores will show scratches and chips much more readily than resin chiavari chairs with a similar colour core as the top coat.
To learn more about our resin chiavari chairs, you can read more about them at The Definitive Party Rental Guide to Chiavari Chairs or contact National Event Supply with any questions.
Article contributed by Stephanie Heathcote, Senior Marketing Operations Manager, National Event Supply, Toronto, Ontario. Stephanie can be reached at 905-795-1667 or by email at Stephanie@NationalEventSupply.com.
______________________________________________________________
---
Higgins Event Rentals hosts first annual Suppliers Night!
On Thursday April 19th, 2018, Higgins opened the doors to their 56,000sq ft. warehouse to 60 of their supplier contacts as a thank you for years of great service!
Many fellow CRA Ontario members were in attendance to rub elbows with potential new business connections.
"Our hope is to introduce companies to each other, to broaden their network and grow their businesses. If our clients/suppliers grow, we grow!" says Michelle Nicol, CERP, from Higgins Event Rentals.
Higgins hopes to make this an annual event – any excuse to host a party and they're in!
 ___________________________________________________________
---
NJS Hosts Annual Vender-Blender and Linen & Décor Open House!
Well, who would have knew that April could produce an ice storm that would have us redesigning last week this time.  Mother Nature thankfully turned around for us and we are so overwhelmed by the support of all of our clients. We began our Open House week by hosting the Community Futures Huron Lunch and Annual General Meeting with 44 guests in attendance  and yes everyone fit in our showroom! Including guest speakers and dignitaries, all came together and let's just say our showroom was at capacity!
On Thursday was our vendor blender where we bring together all of our industry friends that we work with all through the year. Normally when the season is in full swing we are focused on our clients and their events and communicate to convey information based on events.   This time of year we allow ourselves one night to get together and just celebrate everyone's success and life in general! These vendors are so appreciated and work hard for all clients and we thank each and everyone!   On Friday and Saturday we were able to show the public all of our new products and the newest designs. We are our best year yet for attendance and we are so very thankful! The 2018 Open House numbers are in and in total we had 60 plus brides were planning a wedding visit us and along with our brides an additional 250 guests visited. Each bride was able to take home a swag bag filled with our go to vendors that provided information of products, taste samplers that included cookies, wings, bbq sauce and popcorn and even a beautiful house plant! The generosity from our local Vendors always overwhelms us and we love to see the reaction of our brides that they get all of these goods!  In addition we are even more excited that we are able to donate over 60 pounds of canned goods to our local food bank!  We are so fortunate to have celebrated 20 years in this amazing business and it is because of the support from our amazing clients, local vendors and of course our staff that bring it all together! We can not wait to see what 2018 has in store for us!
Article: Nancy Snell, NJS Design Event & Party Rentals – Clinton, ON
Photography: Diane Brandon Photography – Bayfield, ON
Florist: The Garden Gate Gifts and Floral – Grand Bend, ON
Florist: Luann's Flowers and Gifts – Goderich, ON
Florist: The Backyard Flower Shop – Clinton, ON
Cakes: Make a Wish Cakes – Exeter, ON
---
5 tips and tricks to create better Instagram Story content
By : Emma Fitzpatrick
If your business is like most, your organic reach on Facebook just continues to drop. On Instagram, your engagement may not be what it used to be either because posts are no longer displayed in chronological order.
Lately, it can feel like your company just can't catch a break on social media. That's especially true if you keep doing what you've been doing in the past. In fact, if your content strategy is the same as it was three years ago, it's now 50 percent less effective, according to 2018 BuzzSumo data.
Luckily, on social, there's always a new trend you can seize to spice up your social strategy (and boost engagement). If you want to focus on Facebook, try making some live videos. They generate six times as many interactions as regular videos and are favored by the new Facebook algorithm.
If your brand is more focused on Instagram, Stories are the best way to organically reach your followers. As a bonus, the more you engage your users on Stories, the higher your regular Instagram posts will rank in their feed.
Without further ado, here are five tips and tricks to create more compelling content on Instagram Stories.
1. Add links
If you have a verified account or business profile with 10,000 or more followers, you can officially add links to your Instagram Stories. To put that another way, you can say farewell to the days of #linkinprofile.
To add a link to your story, simply tap the link icon at the top of the Story screen and pop in your URL.
If you're unable to add links in your Stories, don't spend as much time driving people to your website. Keep it on Instagram for now. Occasionally, you can ask people to click the link in your profile, but that gets old quickly!
2. Say it in every color of the rainbow
Type out your message, and then make it pop. Select all your text. Then, tap and hold one color with your right finger, and a color bar will appear.Once you see your selected text change color, use your left finger to deselect one letter or word from your message. Keep that other finger holding the first color, and slide that it over to the next color. Repeat the process until each word or letter is a different color.
It's easier to do once you've seen the process in action here.
3. Go hands free
Get a phone grip or loop for your phone. It will make it much, much easier to hold while you're doing video. Or if you want to take it to the next level, get a phone tripod.
Both will make your video more steady and watchable. Plus, it'll be easier for you to create better video (and for under $10).
4. Build anticipation
Keep people clicking through your Stories by only giving away little bit at a time.
Start a text image. Write a little bit. Save that Story. Start a new Story, and this time, select the one you just made. Now, add your next line off text. Save, upload and repeat until all your text is on one Story.
Once all your content has been created, share them in order, starting with

the teaser at the beginning to the full Story at the end. Then, users will have
to click through to slowly unveil your message, which will build their interest (and boost your engagement).
5. More polls, please
As you're adding stickers, be sure to engage your audience by adding a poll sticker. You can add a specific question and customize the users' two voting choices. It's a quick, low-stakes way to engage your audience.
You'll be surprised how much your audience will love this (and how easy they are to make).
Source: http://exclusive.multibriefs.com/content/5-tips-and-tricks-to-create-better-instagram-story-content/marketing
Asana is the easiest way for teams to
track their work—and get results.
Asana is a web and mobile application designed to help teams track their work. It was founded in 2008 by Facebook co-founder Dustin Moskovitz and ex-engineer Justin Rosenstein, who both worked on improving the productivity of employees at Facebook.

Hit your goals, without the scramble. Make every project a success. Map out each step and organize all the details of your work in one place.

The basic version of Asana for teams that are just getting started is FREE.

Free Features

§  Unlimited tasks, projects, and conversations

§  Up to 15 team members

§  Basic dashboards

§  Basic search
---
Thank you to our 2017/2018 Newsletter Supporters!