August 2018 Newsletter
Together We Can Raise The Standard!
In This Newsletter
How To Market Your Tool & Equipment Rental Business in a Small Town
How To Prepare For The CRA ON Golf Tournament
How To Incorporate The Pantone Colour Of The Year Into Your Rental Inventory
Members Corner – Awards & Milestones to Celebrate
Get Organized With The August App Of The Month
7 No Brainer Tips To Write An Awesome Facebook Post
Much, much more!
Special Message From Your Associate Director, Gord Ellis! 

DO YOU REALLY KNOW CRA (ONTARIO)?
 ASK YOURSELF THIS QUESTION…WHAT KIND OF RENTAL INDUSTRY MEMBER AM I?
Are you the first to pay your association Membership fees with pride every year, or are you not a Member and the one who says "the association has nothing for me"?
Are you the one attending the association events and Members' Meetings on a regular basis, or the one who says "I'm too busy"?
Are you the one volunteering to help out, or do you let the others do all the heavy lifting?
Are you the one keeping up-to-date with the issues of the day, or are you content knowing that someone else will take care of it?
Are you the one contributing and making sure your voice is heard, or are you the one complaining in the background?
Are you thinking beyond your own property's fence line, or are you okay with just thinking about what goes on inside your own business?
Are you the one participating on Committees and Working Groups, or the one griping about "The Good Ol' Boys Club"?
Are you a supplier that supports association events, or are you the supplier that rides the coattails of your competitors?
At a time in our history when our issues are bigger and more complex than ever before, the time is NOW for us to pull together as an industry.
Be engaged. Be knowledgeable. Be aware.
Together, we are a better industry.
THERE IS DEFINITE STRENGTH IN NUMBERS!
---
Are you the next CRA Ontario Director-At-Large?
Do you know someone who is?
The CRA Ontario Board is looking for 2 – 4 Directors-At-Large to join our fun group! Are
you looking to get involved and grow in the Canadian rental industry? This is the perfect place to start! We have various rolls available with lots of room for growth and would love to chat with you   about these amazing opportunities.
We meet before every member event and always have a blast putting together programming, communications and information for our membership.
Contact any of the board members HERE for more information today!
Follow our *NEW* CRA Ontario Instagram HERE to stay informed in-between Newsletters!
---
Please join us in welcoming Rachael Caron (Crown Verity) as our newest Board Member!
Rachael will join the CRA Ontario Board for the 2018/2019 (and beyond, we hope!) association season as Director At Large! Look out for her at the October Event and please join us in welcoming her to the board.
Special Message from Rachael Caron!
Who says you can't re-invent yourself in your career. Married to my husband for 23 years with 2 wonderful sons.  I had their full support.  After 20 years in health care I found myself looking for a change.  By pure serendipity,  here I am helping our incredible customers have access to what they need.  I am a small town girl with a need to ensure people are well taken care of.  Crown Verity is the perfect fit.  As a busy company, it provides the energy and integrity I love.  I believe in what we do and the care and family style approach to business, is inherent in everyone I work with. Both Crown
Verity and Rental Industry are in the business of creating memorable experiences. I love working with our rental partners and know they put the same high level service to each customer and event tackled.  I am looking forward to getting to know all of you better and am excited about the year to come!
Rachael Caron | Inside Sales – Canada | Crown Verity Inc.
Crown Verity has been a proud rental partner since 1991.  Make your events Brilliant for Life!
---


#CRAONTGOLF2018
Follow the Event Hashtag and tag it during the event to be part of the fun!
Thursday September 20, 2018
Springfield Golf & Country Club, Guelph ON
REGISTRATION | 11:00AM        –        SHOTGUN START | 1:00PM
Your Green Fee Includes:
Golf Cart
18 Holes of Championship Golf
Golfer's Grab Bag
Trophy Holes
Halfway House Lunch
Awards Banquet
Changes to WIN Draw Prizes
Hotel Group Rates
Guaranteed Laughs
REGISTER TODAY and Don't Miss This HIGHLY Anticipated Event!
Hotel deadline is quickly approaching! August 10th is the deadline to secure your CRA Ontario Golf Tournament rate. Book today to avoid disappointment! 
The Golf Committee GUARANTEES another sell out this year! DO NOT PUT IT OFF – Register EARLY and TAKE ADVANTAGE OF THE EARLY BIRD RATES!!
See you on the green!
Downloadable Forms Below:
Associate 3 for 2 Registration Form 
Have you been thinking about how to get more involved with the CRA Ontario Golf Tournament but aren't sure how? We can help with that! Sponsorship opportunities are still available but are selling like hot cakes.
 Sponsoring the golf tournament is a fantastic way to get your name out there to your colleagues/clients both before, during and after the event.
 We have sponsorship opportunities for all levels and encourage you to reach out to your CRA Ontario board with any questions!
---
HOW TO PREPARE FOR THE CRA ON GOLF TOURNAMENT
With the golf tournament around the corner, people want to know how to prepare for success!
While we can't tell you the magical secret to shooting low scores in competition, we do have a few thoughts on how to give yourself the best chance for success. Here are a few things we have learned from over the years.
Study the Course: Many times a golf tournament will be played at a course that you are completely unfamiliar with. Practice rounds are certainly the best way to study a course beforehand, but sometimes it's just not feasible. A great trick you can do to prepare yourself is to study the course on Google Earth beforehand.
Arrive Early (but not too early): The last thing you want to do is feel like you are rushed before a round. Registration opens at 11:00am and Shotgun Start is at 1:00pm. We recommend giving yourself anywhere between 45 minutes to an hour beforehand to show up. This gives you time to register, locate your cart and most importantly, mingle! If you show up 15 minutes before your tee time you may not be as calm as you should be on the first tee.
Expect the Unexpected: Tournament golf is not like your normal weekend round with your buddies. It is a completely different animal. When you have real pressure on every single shot, some unexpected things might occur.You could miss a few short putts that people normally give to you. Tee shots might be a little more wayward than usual. That being said… don't forget to pickup your Mulligans during registration! 
Don't Forget to Have Fun: Here is the good news. Nothing is really on the line for you in a golf tournament. Men and women who are playing professional golf for a living have an incredibly difficult, stressful job. Their livelihoods are at stake every time they tee it up. Not for you though. You might like to play competitively, but it is still not your vocation. Remember that when you tee it up during an event, this is not a life or death situation (although sometimes it might get that dramatic).
---
Some great memories from the 2017 CRA Ontario Golf Tournament:
Trade associations give their members many advantages in a fast-paced, competitive world.
Each month we will be highlighting a new benefit to help you make the most of your Canadian Rental Association Ontario membership!
According to recent research, over 85% of businesses that fail are not members of a trade association, so you're already ahead of the curve!
Gain Leadership Experience!
 Want to make the most out of your association membership? Join the board! By joining the board, you can open yourself up to an increased range of leadership opportunities that you might otherwise miss out on. You will also benefit from increased exposure and have the opportunity to meet more of our great membership. This can help you make a name for yourself and your company in the industry, while adding more experience to your resume.
You are never too "experienced" to learn and grow in this ever evolving industry!
Your required effort depends on your board task, but everyone is always willing to help and all work towards the main goal; Together We Can Raise the Standard!
——————
These are fantastic opportunities that you do NOT want to miss!
Visit the CRA Ontario website for a list of upcoming events and a recap of past events. www.craontario.org.
Don't Miss Out on Advertising in the Upcoming Newsletter Season!
For the upcoming 2018/2019 season, we are doing things differently and want to offer you an even better value and exposure than in years past!
To Sign-up, please complete the Registration Form and fax or email this letter to:
416-252-0591 (ATTN: Michelle Nicol) Michelle@HigginsEventRentals.com
Downloadable PDF Form:
CRA Newsletter Advertising Sign Up – 2018 + 2019 Season – April 30 2018
---
2018 Recap So far! 
May was our last Member Event at LIND Equipment.

We'll see you at Springfield Golf & Country Club on September 20th for the CRA Ontairo Golf Tournament!
5 Big Ways to Market Your Tool & Equipment Rental Business in a Small Town
If you own a business in a small town you might have discovered that getting the word out and enticing people through your doors isn't exactly easy.
In fact, marketing in a small town can seem more daunting than marketing in a larger city. But it shouldn't. There are a lot of benefits to being located in a small town, some of which I'll cover below.
So let's dive in!
Establish Yourself, or Your Company as an Expert. One of the great things about
doing business in a small town is that you're probably not competing with dozens of similar businesses to stand out and get noticed. Establishing yourself as an expert in your industry, or a trusted source of information, is a very effective way to stand out, get noticed and create a positive reputation for your brand.
Start by knowing exactly what your expertise is. If you own a landscaping company your expertise is probably knowing how to make someone's property beautiful, increase their curb appeal, increase the value of their home and give them an oasis they can enjoy without leaving their back yard. In a nutshell, you're the experts at creating beautiful, inviting outdoor spaces.
Once you're ready to own your expert status it's time to get the word out. The
best way to do this is by SHOWING people rather than just telling people. Using a slogan like "We're the lawn care experts" isn't enough. You want to demonstrate that you, and your staff, know what you're talking about! One of the best way to do this is by giving away your knowledge. At first this may seem counter intuitive, but think of this way…ultimately most people will not have the time or desire to do your job. Maybe some people will do some of the little things you suggest, but when it comes to the bigger jobs you'll be the first company they think of because they know, like and trust you.
Here are some great ways to share your knowledge and establish your expertise…
Write for a local newspaper, or suggest an "Ask the Expert" column.
Create a blog as part of your website. Put yourself in the shoes of your ideal customers and write helpful advice about your industry. For the landscaping company this might include advice about: yard beautification, maintaining a healthy lawn, gardening, easy ways to increase the curb appeal of your home, etc.
Host a free seminar during the evening or on Saturday morning. Think of your ideal customers, what would they find so intriguing that they wouldn't be able to pass up attending? Home DIY demontrations? Renovations?
Make Face-to-Face Connections. People do business with those they know, like and trust. This truth is very pronounced in small towns. You've noticed it, haven't you? If you're the new kid on the block, and do not have many connections in the small town where you do business, it's important to get out there and meet people.  Not only meet them, get to know them.
Here are some ideas…
Shop local, yes you. Rather than driving to a nearby city to get your groceries and run your errands get out and support the local butcher, bank, market, salon, and other businesses whose services you need.
Rather than a cliche 'Customer Appreciation Day', go out in the town and do an act(s) of kindness. You might even get some good press.
Attend local business networking events. The Chamber of Commerce is a great place to start inquiring about events in the area.
Attend local events where your customers and potential customers will be.
Make Online Connections. Yes, face-to-face networking is a great way to meet people in your community – but in a lot of cases those same people are also online following their favorite people and brands on social networking sites such as Twitter, Facebook, LinkedIn and Pinterest. To stay connected, and relevant, it's a very good idea to find out where your ideal customers are hanging out online…and join them.
Get Found Online. Make sure that your company and products/services can easily be found online by people who are searching for a local provider. If you own a tool company you'll want to make sure you're at, or near, the top of the results when people search Google for things like:
tool rentals [your town]
where can I get a drill rental in [your town]
home renovations [your town]
and so on…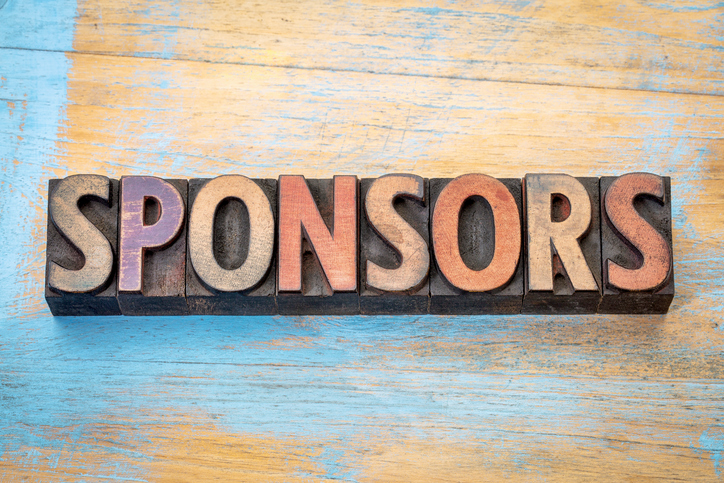 Sponsor or Host a Local Event. Could your company create a signature event to host every year for your community.  Not a "Sales Event" but something that will attract the right people and give you a name in the community. For example, Renasant Bank is located in the Southern United States where they are crazy about college football. So one year they hired a 6-story JumboTron and hung it overlooking a public park. More than 4000 people showed up to watch the games and enjoy food from local restaurants that were set up at the event. The bank also set up a private hospitality tent for clients. It was such a success that that we heard they planned to do it again the next year. Be creative.  If you can go big, that's great – but it's not always necessary. Just make sure it's something people will want to attend and tell their friends about.
Source: big fish media

How To Incorporate the Pantone Color of The Year Into Your Rental Inventory
This year, purple is the new black! Ultra Violet to be exact.
For event planners, keeping up with the current trends is important in the industry to stay competitive. Color and texture can play a vital role in transforming a venue, tablescape or atmosphere.
Each year, Pantone's Color of the Year helps to influence color trends in the event industry and for 2018 it's all about Ultra Violet 18-3838. Purple may seem like "just a pretty color" reserved for tea or children's parties, but it can also be pretty powerful and make an impact in a corporate setting – if you know how to use it.
We've already seen the incorporation of purple hues into event schemes and themes so here's a shout out to all those events so far that are bang on trend. Here are some fun ways to incorporate the hottest color around into your own events.
Ballroom Uplighting
Just because you have a large venue, doesn't
mean you can't incorporate color, and the easiest way to do this is by using colored lighting effects. This event maintains the purple theme by using white linens and walls as a backdrop for the colored lights to reflect on. It makes the color really vibrant and it's easy to change throughout the event if necessary (perfect for those with commitment issues.)
Hanging Décor
This hanging installation combines unique colored mesh with string lights to give an immersive experience. Allowing guests to walk through this would give an ethereal feel to
a space and the purple creates a tranquil atmosphere too.
Textured Tablecloths
While this may not be the best idea for full table spreads to eat on these would be perfect for cocktail or welcome tables. They are more dynamic and a feature in themselves with these purple "leaves" that drape to the floor,
definitely a conversation starter for networking events.
Dancefloor Lanterns
We all know a canopy can make the dancefloor feel more intimate but this colorful display is something new! Combining different purple shades to look similar to floating clouds and creating their own atmospheric lighting that is stunning when it gets darker, this colorful canopy is a cool one to implement.
Stair Bars Looking for a way to spruce up an event stairwell? Add LED bars that project color into the space to incorporate it into your scheme and themes to keep the magic alive. Often spaces like this can be forgotten about and ruin the effect when transitioning from one room to another within the venue! Just be careful to allow guests enough light to see, particularly with stairs.
Feathered Centerpieces
An array of Ultra Violet and purples are mixed in these centerpieces and even the table linen draws inspiration from them as well. The feathers are an interesting touch making them more decadent and even the liquid in the vases has been tinted in line with this rich color scheme.
Digital Screen Backgrounds Creating digital projections like this can utilize large blank spaces and showcase elements to wide audiences with minimal set-up. As if this wasn't cool enough, you can also use these projections to set the background color so that it makes the presentation more interesting.
Intricate Entrances
A funky entranceway to entice and intrigue your attendees that also uses color to stand out and make an impact. This entrance helps funnel visitors while also being immersive and providing interesting photo opportunities for the evening at the Salt Palace Convention Center.
LED Entertainment Activities
Who says entertainment can't be themed! These hoverboards are a fun attendee activity that bring things up a notch with purple LED lights. Adding a new dimension that converts this from a day to night activity makes it more exciting and memorable.
Pastel Shades
Ultra Violet can be a powerful color so if you want something more mellow, particularly if you are trying to incorporate the unicorn trend, opt for pastel variations like this. It can create a totally different effect and dress up simple parties and outdoor events. Plus pastels are easy to pair with florals.
Agate Slice Place Cards
These beautiful natural elements give an exotic effect. An increasing trend is using calligraphy drawn gemstones or glass pieces to use as place cards that are an excellent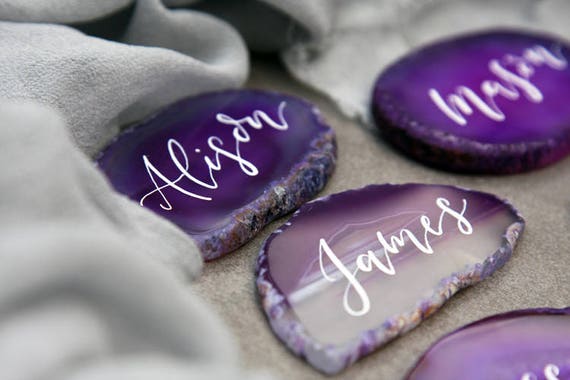 feature talking point and a little memento for guests to take home too. These agate slices fit in perfectly and definitely give place settings the wow factor.
SaveEtsy2017 Wedding Trends. Agate Slice Place Cards. Calligraphy Agate Name Cards. Purple Geode Place Cards. Event Table Decoration. by FoxAndHart on Etsy219Jennifer Alice PerkinsBeautiful Table
Purple Balloon Arches
This balloon arch creates an excellent entrance way and can accentuate part of the venue or event such as drawing attention to the event prizes up for grabs or the table plan. Not only does this stunning purple arch feature different shades, it's also got subtle corporate branding which could be a fantastic addition to sponsorship packages.
Food & Confectionery Incorporating colorful food takes things to the next level but with colors like Ultra Violet, unless you are going to go very unnatural, chances are you'll struggle for options outside of cupcake frosting. These are a cool alternative that can be used at a sweet station or sprinkled on tables instead. Use alternate wrapping colors for treats, table chocolates or favors for the event because even though they are a small element, they are one that will tie everything together.
Special Effects
Color schemes on a larger scale can be difficult, particularly if you have no walls to work with, like at an outdoor festival or concert. Instead, use special effects such as dry ice and smoke machines that can reflect stage lighting to create a purple mist that spreads into the audience. Another option for this is the purple powders that allow attendees to "color bomb" one another – a favourite at sporting or 5K events.
Young Professionals Committee Sets Goals to Strengthen Reach and Benefits For All
Members of the Young Professionals Committee have developed specific goals to help more young rental professionals develop their skills and network with their peers to become strong leaders in their rental businesses.
Those goals are:
Grow the Young Professionals Network (YPN) membership to 1,000. That goal is close to being met. The group now boasts 850 members.
Expand communication to YPNs. YPN members now receive the YPN Spotlight, a monthly one-page email, as well as more social media connections.
Hold more structured professional events. This began at the YPN Reception during The ARA Show™ in New Orleans. In addition, more educational sessions specifically geared for YPNs will be incorporated at the Show in 2019 and at other venues.
Integrate more YPN opportunities with state association activities. This will allow more young professionals to benefit from what the YPN offers.
"There is so much this networking organization has to offer to young professionals. We wanted to show the members that this is an active organization, that there are others in the industry experiencing the same obstacles and successes, and that we are listening to the members and owners and working to create the structural education that people have requested," says Julie Creedon-Linton, CERP, vice president of Creedon & Co. in Worcester, Mass., and chair of the Young Professionals Committee. "Young professionals are hungry for education and for ways to grow personally and within the industry," Creedon-Linton says. "They want to meet new people who can understand the circumstances they live and breathe every day. They want strong bonds with others in the industry to bounce ideas off of outside of Young Professional Network events and conferences." With the goals set by the Young Professionals Committee, those opportunities to network and learn will only strengthen, benefiting everyone in the industry.
Young Professionals Committee sets goals to strengthen reach and benefits for all
Rental operators from across the United States and Canada took advantage of the networking opportunities that were offered at the Young Professionals Conference in November 2017 and the Young Professionals Network (YPN) Reception during the Show this past February.
Higgins is Having a Mid-Season SALE!
Looking to add a collection of glassware to your rental inventory? bulk up on the basics? Take a peak at what they have for sale
HERE
and
get in contact with their office
to pick up these deals before they're gone!
Available Items
Stainless Steel Water Jugs
Stainless Steel Bell Water Jug
Candle Lamp
Picture Frame Table Number Holder
Stainless Steel Charger
Chair Wood Folding
Chair Wood White Chiavari
Glass Swirl Stem 100z
Glass Swirl Stem 12oz
Glass Plain 10oz
Glass Plain Flute
Percolator 30cup
Percolator 100cup
---
We want to CELEBRATE with YOU!
Do you have an upcoming Anniversary? Grand Opening? Demo Day? Warehouse Sale? Industry Event? New Hires or Milestones? Do you just have something you want to share with us and your fellow membership?
The CRA Ontario wants to support you and your business and help you grow!
Let us share your successes with fellow industry professionals. In addition to recognition in our newsletters, We would love to represent the CRA Ontario at your special event and congratulate you in person on behalf of your association.
Please email Michelle Nicol, CERP (Incoming CRA Ontario 2nd Vice President) at michelle@Higginseventrentals.com with the details.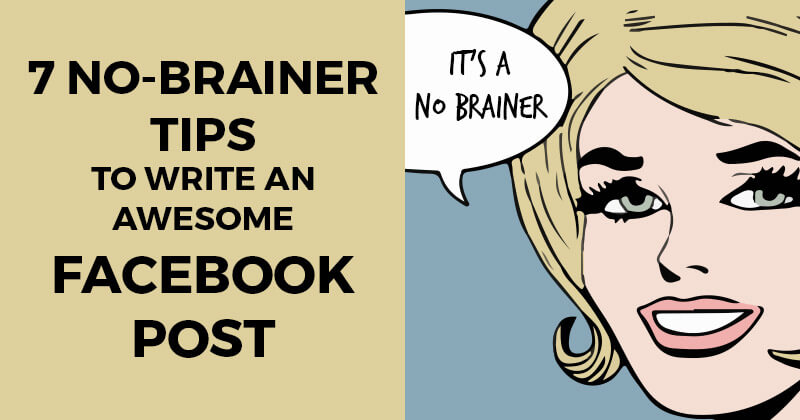 Figuring out what to post on Facebook can be tough. Over the years many experts have weighed in on what "works" on Facebook.
But remember that Facebook isn't a "One Size Fits All" platform. What works for your page may not work for mine. And vice versa. You need to test to see what gets the most engagement from your particular fans.
1. Ask a Question
But be direct. Don't ask open ended questions. Giving people an easy choice of answers will result in more comments and engagement. Here's an example from John Haydon's "The Nonprofit Facebook Guy" page:

2. Keep it short
With more and more pages and people to follow the news feed for many is very crowded on Facebook. And most people tend to skim through posts quickly and won't read long winded posts.
That's why I recommend 80-160 characters. The example in Tip #1 is a great example of this also. Short, sweet and to the point.
3. Give a clear Call-To-Action
Tell people EXACTLY what to do.
Dumb it down a little. I'm not saying people are dumb, but my experience is that if you give people a little push and some clear direction, you will see results.
I often use "Click Like if you agree and Comment if you don't" — or something to that effect. Giving people direction isn't a bad thing, but don't do it in every post.
4. Offer some valuable information
Give them just enough to entice them to take an action.
Your goal on Facebook (and other social networks) is often to get people to your website. Accomplishing that goal requires giving readers a reason to click your link.
So don't give them all of the information in your post, because then they don't need to click your link. Here's a good example of that.

5. Give them a link
If you're asking people to do something with a CTA, then make sure to provide a link where you want them to go (site, app, etc.).
Below is a great example from TabSite App where they ask a direct question and then give a solution and link to their Pinterest account. It's a great use of calls to actions and giving clear direction.

6. Be Positive
People respond and tend to share more when the post is about something positive. No one likes a negative Nelly!
The items that get the most shares on Facebook tend to be those things that are positive, inspirational and/or funny. People might agree with your negative sentiments — but they will hold back the Likes, Comments and Shares because they don't want to be perceived as negative.
Lori Greiner from Shark Tank is a great example of this. She's always posting short and positive thoughts to keep her fan base engaged — as seen here:

7. Post an Image
I recommend posting an image 80-90% of the time. Historically speaking photos carry the greatest weight in the Edgerank algorithm on Facebook. Plus, people more likely to share photo posts.
Source: Post Planner / Adapted from a blog post from Social Media Today

EXPENSIFY
As fun as paying $200 for a business dinner out of pocket may be, you're probably going to want expense that surf-and-turf. Expensify simplifies the expense report process, whether you're an employee or a manger, which means better receipt tracking and less wasted money.
From receipt scanning to reimbursement, Expensify automates every step of the expense reporting process. Expensify is supported on iOS and Android devices. Click below for Expensify download links to the Google Play store and the App Store.
Sit back and let Expensify do the work
Whether you're a road warrior with pockets full of receipts or a busy accountant buried in paperwork, Expensify automates the entire receipt and expense management process.
One-Click Receipt Scanning
Expense reports are finished with one click. Take a picture of your receipt and Expensify automatically fills out and submits an expense report for you!
Next-Day Reimbursement
As soon as reports are approved, rapid reimbursement delivers the money right into the employee's bank account within 24 hours via ACH direct deposit.
Automatic Approval Workflows
Admins can customize expense policy rules for their organization and configure Expensify to flag any expenses that actually need a manager's review. The rest — like that $3 coffee receipt — are automatically approved.
Automatic Accounting Sync
Any changes made in your accounting system are automatically synced with Expensify in realtime for constant visibility into your organization's finances, making audits and tax season a breeze.
Stop sifting through piles of reports…
Configure Expensify to flag the receipts that need human attention and automatically approve and reimburse everything else. With multi-level approval workflows, Expensify gives you complete control and visibility over company finances.
Expense reports with Expensify take 83% less time.
Snap a picture of your receipt and your expense report is done
SmartScan your receipt and our patented OCR technology automatically reads and codes the receipt details for you, then adds the receipt to an expense report that can be automatically submitted, approved, and even reimbursed.
The world's smartest companies use Expensify
Organizations of all shapes and sizes rely on Expensify to save time with automated expense management.
———————————————————————————————————-
Thank you to our 2017/2018 Newsletter Supporters!